40 Sensational Breakfast Nooks to Brunch in Style
Providing the perfect place to eat a casual breakfast or just sit down and relax with a cup of tea and a magazine, breakfast nooks can be found in homes of all sizes and styles. If your kitchen and dining areas are cramped and tiny, a breakfast nook can be a clever space-saving device that adds both functionality and style. If your dining space is very vast and formal, a breakfast nook can bring a touch of coziness and a homey, personal atmosphere for more intimate or casual dining.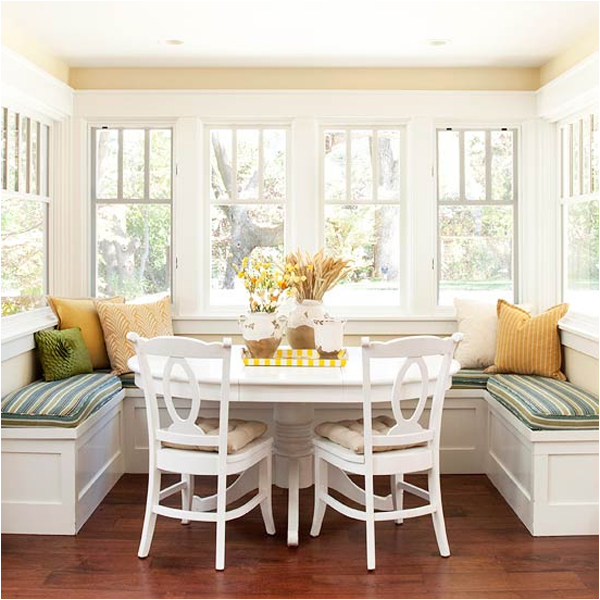 Creating a breakfast nook is easy, especially when you choose a design that fits your needs as well as your budget. All you really need is the inclination and inspiration, and a little dash of ingenuity. Here are some quick tips to guide you in the right direction, followed by photos of creative designs for breakfast nooks to help get you started.
Optimize your Space
Traditionally, a breakfast nook is set up in a recessed area such as a bay window, but you can create the same effect in nearly any room. You might choose to locate your breakfast nook in a corner or at the far end of a room, along a sidewall or beneath a window, or even in a large closet.The idea is to make the space seem like its own separate area. You can do this by adding bookshelves of different sizes or silk screens to form walls, placing them at right angles to the main wall so that you have a space that's sort of like a cubbyhole.
If you don't have silk screens or bookshelves, you might opt for sealing off a space using curtains or drapes suspended from the ceiling. What makes a breakfast nook is not so much the space itself but how you utilize it, so take a long look at your home and see if there is a place you haven't considered that might be a perfect location for your new dining area.
Keep it Casual
A breakfast nook should be less formal than a traditional dining room, so choose furniture that is, first and foremost, comfortable. You don't want to go through all the trouble of making a breakfast nook only to never use it because the straight-backed chairs leave your muscles stiff. Consider also how you'll be utilizing the space, and think of some enhancements you can make to your breakfast area that will add to its value.
If you like to read at the breakfast table, for instance, consider placing a magazine rack nearby. If you enjoy sitting in your breakfast nook as you crochet, go ahead and keep your basket of supplies handy right where you'll need it. A breakfast nook is designed to give the experience of a casual and relaxed weekend breakfast at home, so go ahead and make it homey.
Downsize
Large, heavy furniture has no place in a breakfast nook. It clutters the space and takes up valuable room that you could use for potted plants, lighting, or other more space-enhancing accessories. Choose furniture items that are smaller in size, and lightweight materials such as wicker, bamboo, or wirework.
Dream!
Make use of what you have to get your breakfast nook started, and add to it and improve it as you are able. Try the ideas in this article to get you started, and keep reading below to view more photos of sensational breakfast nook designs you can create in your home…